BIGG BOSS 5: Shakti Kapoor dresses as an F1 racer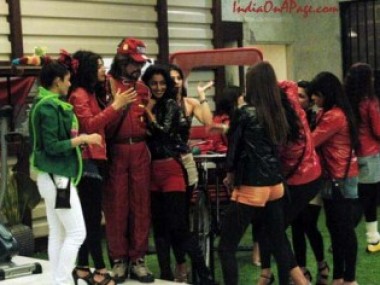 In the morning, the women in the house are surprised to see Shakti Kapoor dressed in a flowing gown like nightsuit. They pull his leg over the outfit and Shakti is quite a sport, joining them in the conversation. Meanwhile, Nihita who is trying to gel with the contestants tries to strike a conversation with Shakti. While the actor is on the treadmill, Nihita keeps yapping on various topics.

Shakti calmly listens to her and the reason for it is concealed ear plugs! Shatki who has decided to give up alcohol while in the Bigg Boss house. He speaks about how his alcohol addiction has impacted his family and him over the past 37 years. He says that Bigg Boss is the perfect platform for him to tell his story. He also reveals how his addiction screwed up his relationship with a lot of people in the industry. He is especially sad about losing his friendship with the one of the biggest superstars of Bollywood.