'Rockstar' Ranbir Kapoor To Woo Fans In Live Concert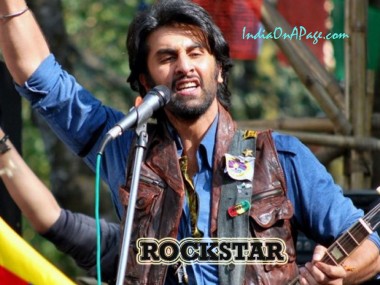 Ranbir Kapoor's forthcoming film Rockstar is already grabbing eyeballs because of the songs and Ranbir Kapoor's different 'look' and now, the makers have decided to cash in on the Kapoor prince's Rockstar image by organising a 'live' concert at the Bhavan's College grounds in suburban Mumbai.

The 'Rockstar Concert' is scheduled in Mumbai on November 1, 2011. Director Imtiaz Ali, co-star Nargis Fakhri, singer Mohit Chauhan, music maestro A. R. Rahman, along with eminent personalities such as Rahman's long term associate Ranjit Barot (Music arranger) and Percussion guru Sivamani, will also join Ranbir. In what can be termed an 'added treat', the 'Mozart of Madras', as Rahman is popularly known, will also be performing live at the concert.

Producer Hiren Gandhi of Shree Ashtavinayak Cinevision Ltd says, "Ever since his Bollywood debut, Ranbir has not performed live to an audience. This is what makes the Rockstar concert so much special for the team, as well as Ranbir's fans. Plus, Rahman sir's brilliant soundtrack has generated an incredible hype – the songs are topping the charts not only in India, but in US, UK, and several other markets. Hence, planning a concert made a lot of sense, given the craze and euphoria for the music."

Saadda haq, the song that has become a rage with the youth, will be the highlight of the concert. Other songs to be performed from Rockstar include jo bhi main, kun faaya kun (with the original qawwali singers also performing live at the concert), katiyan karun, nadaan parinde and tum ho.
Rockstar, which releases on November 11,2011 revolves around the life of a Jat youth, played by Ranbir Kapoor who voluntarily suffers heartbreak and goes on to become one of the most popular and controversial rockstars in the country.