Rs. 3 crore worth 'action' song for Akshay-John in Desi Boyz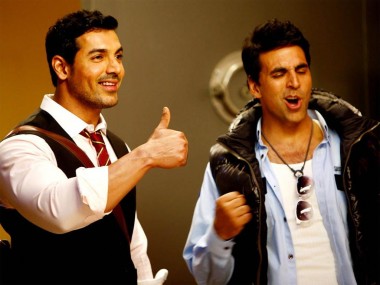 Akshay Kumar is thinking 'big'. For his upcoming film Desi Boyz, he wanted something really extravagant to make audience stand up and notice. While it was a given that the title song of this film would be huge, a new dimension was added to it by making it appear as one big extended action sequence.

"Akshay is coming back to action in a big way now and has lined up films like Rowdy Rathod and Once Upon A Time In Mumbaai 2 for next year. However, he was fascinated enough to bring some action in his immediate next release Desi Boyz as well. Though it is basically a complete family entertainer, he and his director Rohit Dhawan brainstormed and devised this action oriented song", says a source.

The song would feature John Abraham as well and though it won't play during opening credit roll, it is the first to arrive in the film.

Adds our source, "This song is the first of its kind and has never been seen before in a Hindi film. It has a huge action vibe to it and would feature choppers, high speed bikes, burning warehouses to jet planes. Akki fans would love to see him in this avtar. In fact even the costumes that he and John wear in this song blend well with the action mood. It is the most expensive song in the film and has a budget of over Rs. 3 crores."

While glimpses of the song would be seen in the First Look of the Desi Boyz that would be shown along with Mausam, those who have already had a sneak peak say that it is a visual spectacle.

Says Rohit, "Well, let me not add anything to this, audience is the best judge of whether the song justifies big bucks spent on it or not. Having said that I can tell you that this song comes at an extremely important juncture in the film. It plays out as a title track and is one of the best songs composed by Pritam. We shot for it over six days in Thailand."