Jeetendra's Rare Appearance on 'Hum Tum Shabana' Premiere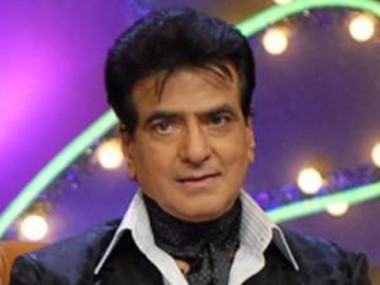 He's revered as the 'Jumping Jack' veteran of Hindi cinedom. And the actor put a spring in his (starry) step, showing up in style for the grand premiere of Hum Tum Shabana, the howlarious flick showcasing scion Tusshar, alongside Minissha Lamba and Shreyas Talpade, with Sagar Ballary doing the directorial honours.

The premiere convened at a suburban Mumbai multiplex witnessed a starry turnout, with fun and gaiety in the air; special guests mingling together with the entire cast and crew.

Presented by Subhash Dawar and produced by Sunil Chainani, Sameer Chand and Subhash Dawar, Hum Tum Shabana is sure to win audience favour with its quota of comedy, inspiring laughs, giggles and guffaws.

Seen having a blast were Sagar Ballary, Shreyas Talpade, Pia Trivedi with designer Aki Narula, Minissha Lamba, Satish Kaushik; Tusshar Kapoor's absence was made up by dad Jeetendra's presence, Arshad Warsi, Mahakshay Chakraborty, Bobby Darling, Ishq Bector, music directors Sachin Jigar, uvika Choudhary, and a host of other tv actors and actresses!

Produced by Horseshoe Pictures and Alliance Entertainment, Hum Tum Shabana starring Shreyas Talpade, Tusshar Kapoor, Minissha Lamba and Pia Trivedi graces theatres today.