Kangna all set to break free post Rascals?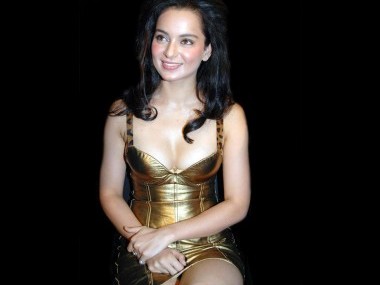 Kangna may well be counting days till the release of Rascals post which she would be glad to break free. The Sanjay Dutt-Ajay Devgn starrer hasn't really left a good taste in her mouth and with the makers clearly putting the film's (distant) second lead Lisa Haydon much ahead of her; picture is quite clear on the wall. However, the end is not as near as it seems. Reason being that Kangna still has one more film with Ajay Devgn - Tezz - up for release and there is still a sword hanging on her neck, what with Sameera Reddy as another leading lady in the film, ready to hog all the limelight.

"Kangna has been quiet through all this mayhem and that has been with a reason. However, she would be on her toes when it comes to Tezz. No one can be sure of how this Priyadarshan directed film works for her. Perhaps everyone would get an answer depending upon how she is treated in Rascals once the film releases this weekend", says a source who has been closely following Kangna's career journey during last few months.

Though Ajay Devgn is hardly known for playing games when it comes to his films, one suspects if there would be other influences that may could be creating a sense of apprehension for Kangna. In any case, she has competition in the form of Sameera Reddy who has worked with Priyadarshan before as a female lead in De Dana Dana and an item girl in Aakrosh.

"Anything is possible", the source continues, "Look at Lisa, she was a nobody when signed for Rascals and today she is almost being projected as the main female lead. On the other hand, even though Kangna is a much bigger name and was signed for this very reason in Tezz, Sameera's promotion for the film has been on full swing for so many months. Makers have a ready female protagonist up there to be promoted as a main lead if the need arises. Obviously Kangna can't take it easy."

For a multi starrer action thriller which in any case is testosterone driven with Anil Kapoor, Ajay Devgn and Zayed Khan arriving with a mighty punch, Mohanlal along with Boman Irani expected to add on to the drama and Sameera Reddy turning a biker girl with quite a fare dare devil stunts to her name, one just hopes that Kangna's worst fears don't really come true.

Once a hot favourite with Sanjay and Ajay, Kangna could well be looking forward to her newer bunch of films like Miley Naa Miley Hum, Dedh Ishqiya and Tanu Weds Manu Season 2. And then there is Sunny Deol starrer I Love New Year that should be released soon and may just about begin a New Year, professionally at least, for Kangna.