Force forces other films out of theatres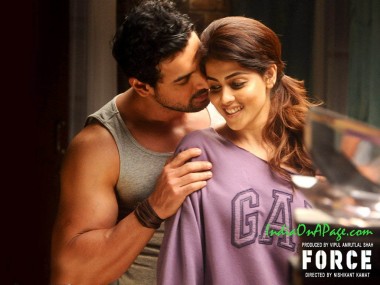 It's probably never happened before. One film released this week has jostled all the other releases of the week from the theatres on Sunday.

According to reports from Fox-Star Studios, their production Force has taken over the shows in certain theatres allotted to Hum Tum Shabana, Chargesheet and Tere Mere Phere.

Understandably the producers/directors of the affected films are fuming. Says Sunil Bohra, the producer of Saheb Biwi Aur Gangster, "We are not affected. In fact our film has a growth of 40 percent over the weekend. It is the other three films (Hum Tum Shabana, Chargesheet and Tere Mere Phere) which are affected. They had no opening on Friday and no shows in some theatres."

Fumes Sagar Ballary, the director of Hum Tum Shabana, "I am glad that Force and John Abraham have appealed to the audiences. But it's sad that Tamil remakes dominate Hindi cinema. Once upon a time South films copied Hindi films. Now we in Bollywood are so bankrupt of ideas that Tamil cinema rules us. Good for business, sad for talent in the Hindi film industry."

Avant-garde director Nishikant Kamat who earlier made some striking small-budget films, has suddenly struck gold. Force, a wince-inducing tale of blood and gore with enough brute force to turn female audiences off, has turned out to be a money spinner. A sure boon for the down-and-out hero John Abraham who was clearly not seen as the film's USP before its release.

Now Force has turned out to be such a hit that it is forcing the other smaller releases of the week out of theatres. Sunday onwards at least three of this week's releases - Deepa Sahi's Tere Mere Phere, Sagar Ballary's Hum Tum Shabana and Dev Anand's Chargesheet were replaced at several multiplex shows with Force.

Confirming these alarming and encouraging developments, Vijay Singh, CEO of Fox Star, says the box office figures for Force have surprised him. "We weren't counting on any major star attraction and the director had so far made niche films. What we were sure of was the action sequences. They had to be very different from what audiences have seen in Dabangg, Singham and Bodyguard. We went into realistic action. And that has worked."

Curiously the film has got away with an U/A (open to underage audiences under parental guidance) censor certificate in India when in major foreign countries the film has been certified for an adult audience.

The gore quotient, however, has kept audiences abroad away. Vijay Singh candidly admits the response in the US and UK has been underwhelming. "Better in the US. But not good in the UK. That's because it got an 'R' rating in the US and '18+' rating in the UK. In the US any film showing drug abuse, blood bath or guns automatically gets an 'R'. However it's doing fabulous business in the Middle East where it got an '18+' censor certificate. The film cost us only Rs. 18 crores to make. So it should be profitable."