Farah to help Karan Johar, student of the year??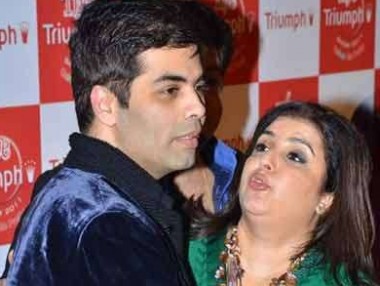 Today Farah is choreographing the first song in Karan's directorial venture Student of the Year starring the three debutantes Varun Dhawan, Alia Bhatt and Siddharth Malhotra.
Yes "Karan's Student of the Year is rolling from today. Farah is choreographing first song which revolves around a wedding and sangeet scenes. If you remember, Karan and Farah found SRK in their mutual friends list but now they both are friends even without SRK. In fact Farah has always choreographed the songs in Karan's films, so it was obvious that he was comfortable working with Farah more than other choreographers. Karan in fact wanted her to shoot all the songs in his films but Farah is so busy with the shooting for her TV show Just Dance and choreographing songs for House Full 2.
This shows how responsible is Farah on sets, she will handle the complete song shoot and hence the directors are given rest all these time. But is that only Farah is far from SRK or even Karan too? Or is it like SRK just sitting far, busy in his future projects?
The source adds that "Farah, Karan and another close friend of theirs, Kaajal Anand, Malaika Arora, Ritesh Deshmukh, Rahul Khanna, and designer Vikran phandis call themselves Games Gang and often play board games like Trivial Pursuit at Farah s place.