Race 2 will not release in May 2012 as planned earlier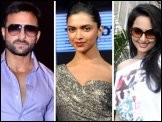 The much talked about sequel to the action packed thriller Race has been delayed. The film which was originally set to feature Saif Ali Khan, Deepika Padukone and Sonakshi Sinha has been going through a lot of change or so say the rumours.

The latest is that the film which was initially supposed to release in May 2012 has been pushed back to a later date. Also, it was said that Priyanka Chopra is being considered for the film. Clarifying the rumours, producer Ramesh Taurani tells us, "Yes, there were some changes that were made, but the whole aspect of Priyanka being in the film isn't true. In fact, we have pushed the dates of the film to accommodate Deepika's dates." When asked about the change in the Deepika's remuneration for the film, Taurani says, "There is nothing like that, we have only changed the dates and nothing else."

However, due to change in the dates of Race 2, Sonakshi Sinha who is also a part of the film may have to opt out as the film's shoot clashes with that of Dabanng 2. Talking about Sonakshi's dates, Taurani says, "Sonakshi is a part of the film, but due to the postponement of the film, there may be a problem and we are trying to work it out."