Salman-Anil-Fardeen all set for "No Entry Mein Entry"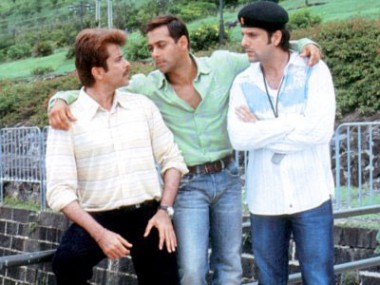 Bringing all speculations to rest, the makers of No Entry have confirmed that the film's sequel would eventually be made. Though there was panic in the interim period around the feasibility of the film, considering Salman is already overloaded with four new films (Ek Tha Tiger, Dabangg 2, Kick, Sher Khan) in the pipeline, writer director Anees Bazmee has ensured that the film is pretty much on track.

"In fact as we talk, I have also closed on the timelines when the script would be narrated to Salman", says Bazmee, "That would be later part of next month. Salman is very excited to do the film and understands that it is a huge franchise."

The film is already in the last stage of the writing process and would yet again feature escapades of the three friends. The film is also special since not just would it star Anil Kapoor, it would also mark a comeback of Fardeen Khan.

"Yes, the film can't be complete without any of the three", he says, "In fact Fardeen's character is even funnier this time around and audience would love it."

Girls won't be as lucky though. While Lara Dutta and Celina Jaitley are enjoying marital bliss, Esha Deol is herself trying for a comeback.

"Yes, we would be scouting for new girls", Bazmee confirms.