Emraan or John in Jism 2?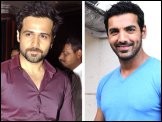 When Bhatts announced plans for next in the series of Jism, one of the first names that came to mind of many out there was Emraan Hashmi. After all, the actor has a strong standing in films coming from the production house of his uncles/mentors and just like he is a regular feature in franchises like Raaz, Murder and now Jannat, there was a strong possibility of him stepping into Jism as well.

"Especially after Murder 2 success, Emraan is a force to reckon with. Moreover last year's super success of Once Upon A Time In Mumbaai has also opened many doors for him to sign movies outside Vishesh Films", says an industry insider, "The way Emraan has sky rocketed his position in the industry today, there were some serious talks around him replacing John Abraham in Jism 2 as well."

There is a twist in the tale though as the makers seem to be scouting for John Abraham instead and there is very strong possibility of the actor being confirmed for the film. Though the film's leading lady would be finalised soon as well, writer Shagufta Rafique and director Pooja Bhatt are making steady progress to fine tune the film's script before making a formal announcement.

"Yes, though it is yet to be seen whether John appears in Jism sequel or not, one thing is almost certain that Emraan is not doing it", confirms a source.

However, contrary to rumours making the rounds that there was indeed a toss up between Emraan Hashmi and John Abraham for Jism 2, the fact remains that Bhatts' blue eyed boy is himself least interested in stepping into this franchise.

Says a friend of Emraan, "How many erotic franchises do you expect him to do year after year? He is anyways a default lead for Murder and if he ends up doing Jism as well, it would be too much of mishmash. Yes, Murder franchise has a thriller angle to it as well but then the selling point for that as well as Jism is mainly erotica with a fair dose of drama. Emraan doesn't want to get into a zone where he ends up repeating himself. Moreover, he has other bona fide franchise to his name in the form of Raaz and Jannat. They are good enough for him; let other actors fight it out amongst themselves for Jism.

When contacted Emraan confirmed that he is not doing Jism 2 due to the aforementioned reason. Guess that should set the records straight.