Bollywood too says Anna Hazare sir Zindabad..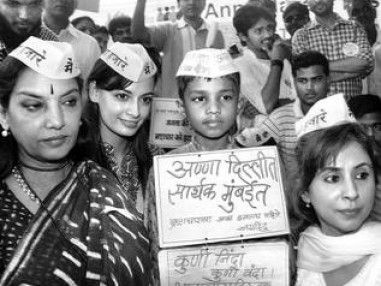 Many bollywood stars are in favour of Anna Hazare Sir and are repeatedly saying this to the media. Many of them even went to the "I am Anna" campaigns and procession.

In the meanwhile media has spotted Shilpa Shetty Azad Maidan, who had been there after a film shoot. Shilpa was so inspired that she was in the campaign with only her driver as her security inspite of the huge crowd. She was spotted wearing a Anna Hazare signature cap. She told that "it is inspirational being here, and I am supporting Anna Hazare".

And in between media also spotted the great actress Shaban Azmi with Glamoutr queen Urmila and Dia Mirza support on "I am Anna" campaign. And now this is called the true revolution, when people come out to work for the country good.
courtsey : Bangalore Times