Sholay to re-release in 3D in 2012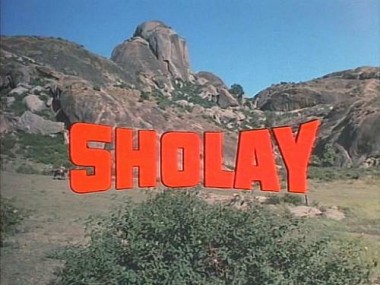 Imagine Gabbar Singh from Sholay cutting Thakur's hands saying, "Yeh haath mujhe de de Thakur" and the sword jabbing near your eyes. Maya Digital Studios, producer-director Ketan Mehta's high-tech effects studio, is now slated to bring the acclaimed movie directed by Ramesh Sippy to theatres in 3D format early next year.

Frank Foster, Senior Director and Chief Operating Officer, Maya Digital Studios, is helming the project and has been in India for over a year overseeing the movie's conversion. "The democratisation of visual effects means that India has become the go-to destination for all kinds of post-production work," he said. Foster, who founded and worked with Sony Pictures Imageworks, first met Mehta during the filming of the latter's Maya Memsaab, starring Shah Rukh Khan and Deepa Sahi, over 16 years ago. At that time, Foster recalls, there was no special effects-focussed company in the country. "Only a few ad films used effects to a certain extent. But the scope now is immense. Filmmakers like Steven Spielberg are looking at India to develop special effects," he said. Last year, he came to Mumbai to take over the working of Maya Digital. "I don't care much for the monsoons and traffic of Mumbai but I came here because I truly believe that in the next five years this city will become the main hub of post-production in the world," he said.

Talking about Sholay 3D, Foster says that the entire film was a challenge for him and his team. "After getting the requisite permission from the Sippys, we realised what a task it was. When you convert a movie from 2D to 3D, the source material is the most important thing. Recreating a 35 year old movie that is not colour-corrected was a definite challenge," Foster said. He also said that the film being over three hours long means that this is one of the biggest films to be converted in the world to 3D. "A normal Hollywood film contains about 2000 shots but Sholay has almost 5000 shots. We have worked hard on each of those 5000-odd shots by identifying objects in these shots that need to be colour-corrected and enhanced for better visual appeal. There were between 100 to 2000 objects in each shot for the team to work on. It was quite tough," Foster recalled.

The visual effects supervisor, however, is all praises for Ramesh Sippy and calls him India's Orson Welles. "His movies are obviously inspired by Clint Eastwood's Westerners. For him, Sholay was as much a labour of torture as it was a labour of love. You must give him credit for introducing stereo in Indian films and action stuntmen from the UK," he said.

For the 3D version, Foster said that his team has developed a proprietary conversion software on which almost 90 per cent of the film has been worked. The team also used Rotoscopy, a technique in which animators create a new trajectory over live action film frame by frame to a great extent. Essentially, this means positioning 40 to 50 dancers used in a Holi sequence in a way that the 3D effect blends in with the shot. To do this, each dancer and his/ her movements have to be digitally-enhanced so that the transition to 3D looks smooth. Foster said that most of the 3D will be used in the action sequences. One computer-generated shot has also been introduced in the film. Early in the film, during the train sequence when both Dharmendra and Amitabh Bachchan are battling bandits, Dharmendra's character Veeru throws a few coal chunks over barrels of oil that explode instantaneously. "In the CG shot, we have given the explosion red colour instead of the original black because Sholay in English means embers and we wanted to show that," Foster said. According to him, many films can be remade for the younger audience but not Sholay. The memorable dialogues, unforgettable characters and the thrill of watching the now-deceased Amjad Khan as Gabbar Singh are as relevant today as they were 35 years ago, he said.

Disney recently released Lion King in 3D to favourable responses this year. If the 3D version of Sholay succeeds at the box-office, a whole new market is set to open for filmmakers next year.