Topless Kajal Agarwal on FHM cover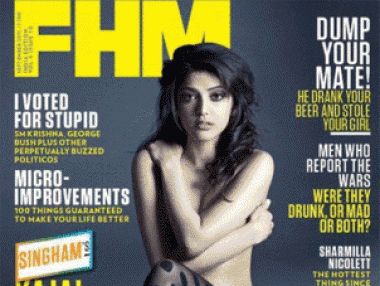 Model Kajal Aggarwal is upset and irked. The reason is the latest buzz that she had posed topless for a men's magazine. "The photograph was distorted. They have morphed it. I would never do such an act," she says.

"Yes, I shot for the magazine, but never posed topless. They have photoshopped the picture. Also, I did not give them an interview," says the 'Naan Mahan Alla' actress, who has just stepped in to Bollywood with 'Singham'

Kajal further expressed that she shot the images wearing a black tube top and also the magazine team e-mailed her the images for her approval!

Meanwhile, the FHM India Editor, Kabeer Sharma, clarified that Kajal Aggarwal's topless picture in the magazine is real. In a statement, he said: "FHM has never in the past or will in the future morph pictures of any celebrities. We shot with madam Kajal Aggarwal on the 18th of August in Mumbai and have a full team composed of assistants, stylists, makeup artists, photographers and others to back it up. We'd be happy to release the full untouched raw pictures on the internet soon to back it up also."

"Furthermore we also have a model release form signed by Kajal herself. To say that the picture is morphed is an insult to both the brand FHM as well as the collective intelligence of you (her fans) as well as anyone with half an idea about how Photoshop works. We don't know what exactly made Kajal Aggarwal change her mind after the shoot…. but if she did, the magazine really cannot be blamed," he added.

Source: IndiaGlitz