Ritiesh Deshmukh & Genelia D Souza romances in Manali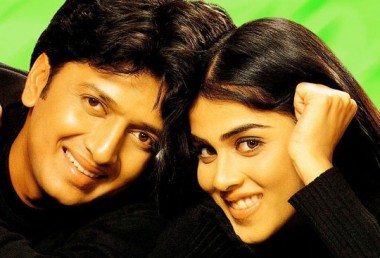 Bollywood Real-life couple Ritiesh Deshmukh and Genelia D'Souza are shooting for "Tere Naal Love Ho Gaya" in Manali and are enjoying every bit of it. Says a source from the sets, "TNLHG" is a romantic movie and the star pair is taking every opportunity to utilise the romantic moments off the sets." It's cool, rainy and windy, and the pair are making the most of the weather.
Although they were very busy for the first 15 days of the shoot, they have been regularly going out for dinners and walks. Adds an insider, "The moment they had free time, they hosted a party for the cast and crew."On choosing the couple for his film, producer Kumar Taurani says, "We had Ritiesh in mind even while penning the script. When we narrated it to him, he jumped on board immediately. For the female lead, we were looking for someone chirpy and someone who would just look perfect with Ritiesh. Genelia fit the bill too. She said 'I'm in' when we approached her. The chemistry between the two is crackling."