'Mausam' Release Postponed; No Show At Toronto Fest Either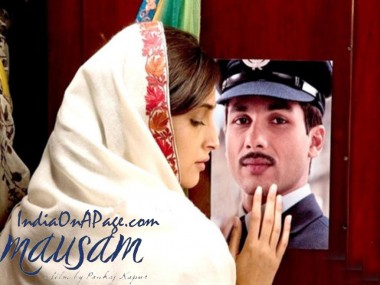 Actor Shahid Kapoor, who plays the role of an Air Force pilot in forthcoming love story Mausam, recently announced at a press conference in suburban Mumbai that the release of the movie has been postponed from September 16 to September 23, 2011.

When asked to reveal the reasons behind the delayed release, Shahid Kapoor said,"There are two reasons for taking the decision to postpone the release by a week.The Indian Air Force had asked us to make a minor detailing change in one of the scenes in the movie dealing with the defence services. This scene was computer generated and so could not be shown to the IAF until it was finalised recently. However, the required changes have been made now. The second reason is that the Censor Board wanted to review the movie once again after watching it earlier and giving it a 'U' certificate."

The actor however seemed to be in high spirits despite the latest development as he claimed the delay would provide the Mausam team with one more week to promote their film. Mausam will have its premiere in London, as well as Mumbai.

Moroever, the delayed release has resulted in repercussions beyond Indian shores. Unfortunately, Mausam will not be screened at the Toronto International Film Festival.The Toronto International Film Festival received word recently that the studio, Eros International Media Limited, has a memorandum of understanding (MoU) in place with the Indian Air Force, giving them a final approval on the film prior to clearing the Indian Censor Board. That approval was not possible prior to Wednesday's scheduled world premiere screening and as a result, all screenings of the film were cancelled.

"We are extremely disappointed that the studio has informed us that the film will not have received the necessary regulatory approvals in India, forcing us to cancel all screenings of Mausam," said Cameron Bailey, Co-Director of the Festival. "Toronto audiences have been powerful champions for the promotion and growth of Indian cinema abroad and it's a shame that our Festival audiences will be left disappointed."

"We are very disappointed not to be able to present the world premiere of Mausam in Toronto and accept full responsibility for our absence," said Sheetal Talwar, producer of the film. "We ran into a delay getting approvals from the Indian Air Force and the Board of Film Certification in India," said Ram Mirchandani, Chief Creative Officer at Eros International adding, "Pankaj Kapur, Shahid Kapoor and all of us behind the film send our deepest apologies to our audience in Toronto."